Walking or Hiking the Dingle Way and The Kerry Way – Some advice
Hiking the Dingle Way or the Kerry Way on a
self-guided walking holiday
is a great way to explore wild Ireland.  Hiking the Dingle Way / Kerry Way is also a great investment for you and your wellness. Time spent walking either of Kerry's long-distance waymarked ways will boost your heart, heal your soul and spark your imagination.
But remember you are walking Wild Ireland and while there are no snakes, wolves or bears to worry about, you are engaged in a physical activity in the great outdoors exposed to all the variety of Irish weather.
Here is what you need to know to get the most from this trip and to avoid mishaps, stresses or injuries.
A self-guided walking holiday health and safety if you like.
1. Know what you are about to do when Hiking the Dingle Way
On a self-guided walking holiday, you will walk between 12 and 17 miles a day on a route described as easy to moderate with a maximum height gain of 660m – Mt. Brandon walk (2165ft)  on the Dingle Way and approx. 376m (1200ft) on the Kerry Way. Underfoot the terrain will vary between mountain trail and sandy beach, country roads and farmland. You will be outdoors 4-7 hours every day. To enjoy the Kerry Way or the Dingle Way a reasonable level of physical fitness is required.
Walking is a low-stress physical activity especially when you are not in a hurry.
It is possible to build rest days into your walking holiday or with a little local knowledge at the planning stage to customise your itinerary for shorter daily distances.
Either way, whether you are walking the full route or customising your trip, it is a good idea to get some miles into your legs in the weeks/months before your self-guided walking holiday begins.
2. Dress for the occasion, Look after your feet and stay dry
Footwear
Sounds obvious but on a walking holiday, it is very important to be good to your feet. Good footwear is essential. Ideally, bring a good pair of waterproof walking boots and a pair of lighter walking shoes. Make sure that the boots have been broken in. Blisters from a new pair of boots are not what you want after day one.
Raingear
Welcome to Ireland, the Emerald Isle, land of four seasons in half a day. In Kerry where the mountainous peninsulas stretch out into the Atlantic, we enjoy all kinds of rain. Some days it rains and some days not at all – but most days there are a few showers with intervening dry spells of varying length. The rain is a thing of beauty, the author of a million rainbows, the shower observed from a hill as it moves across the sky, the sun bursting through the clouds, islands appearing and disappearing in the mist. Always dynamic, we like the rain!
While we like the rain, being wet while walking is seriously over-rated. So here is what you will need to maximise your comfort and keep you dry.
Bring a good raincoat and waterproof trousers. It is possible that these will stay in your bag but don't leave home without them.
Comfy Walking Clothes
Bring comfortable, quick dry walking trousers. Do not walk in jeans.
Bring a few layers of t-shirts and fleeces. The temperature can vary minute-to-minute on a days walk as the sun comes out and in, wind exposure varies or as you ascend.  Having layers to take off and put on can keep you in the comfy zone.
And of course, bring gloves, a hat and plenty of socks.
Sunscreen
With all the care to be prepared for the rain, don't forget to pack and use sunscreen. Irish sunshine aided with a little wind will burn.
3.  Hydration and water
Good hydration is important for all health and well-being and is particularly important when engaged in a physical activity. It is a good idea to pre-hydrate before a walking holiday and pays a little extra attention to fluid intake as you approach your start date.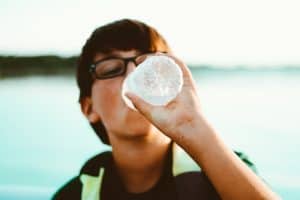 While out walking make sure you bring enough water with you every day. A lot of people use a camel which carries plenty of water and is easy to access while walking.
What about the waters in the streams around you as you walk? Water, water everywhere but can you drink it? I want to say yes but I have to say no. Chances are the water you hear trickling along the streams and gurgling across the stones is indeed clean and pure. However, the unpleasant and sometimes serious consequences of drinking contaminated water are so severe that even the smallest risk is too high. As a general rule water in mountain streams higher than the agricultural fields should be free from any pollution. The mountains of the Dingle Peninsula and South Kerry are sheep country and so there is always an outside chance, small as it may be, of contamination. Bring your water with you to be sure to be sure. Learn more about
the importance of hydration while walking!
4.  Food
Always bring plenty of food. When you are walking you are burning calories so eat a good breakfast. On a self-guided walking holiday, you will be supplied with a good nutritious lunch taking any special dietary requirements you may have into account. But bring trail mix, snacks or energy bars with you. Better to be looking at them than looking for them. Hungry is ok but hangry is best and easily avoided.
5. Animals
No wolves or bears here, the fox is the top hunter and the fox will not bother you. You will be walking through farmland. There may be cows, sheep or horses. Don't interfere with them and they won't interfere with you. Always leave gates, whether opened or closed, as you found them. Observe the country code and leave no trace principles.
6.  Bugs, ticks and creepy crawlies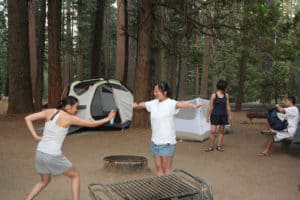 Again, no snakes but what we have been hearing more about in recent years are ticks and their connection to Lyme's disease. Ticks are tiny creatures, they become more frequent and livelier during the months of summer and protecting yourself from contracting a tick bite means you are protecting yourself from Lyme's disease. Wear long trousers and long sleeves. After been out all day you should check your hair, skin, and warm skin folds for ticks. If you find a tick remove it straight and if you develop any symptoms you should consult your doctor.
7.  Plan your route, check the weather and stay on the trail
Prepare your route every day. Read the notes, look at the map and know how long and what kind of walk the day has in store. As you walk be aware of the yellow markers. These are your guides. Stick to the signed route.
The people at your B&B will know the country you are walking in very well. They will also know the peculiarities of the local weather. Talk to them about the route and the weather. They will let you know if there is anything special you need to be aware of.  In some parts of the Kerry Way or Dingle Way, some people with less navigation experience may choose a plan b if visibility is poor on certain high ground. If in doubt, ask for help. There is always a plan b.
Do your homework, be prepared and we have no doubt that your self-guided walking holiday on the Kerry Way or the Dingle Way will be a very positive experience. Always check
http://www.met.ie/
for the most accurate Irish weather forecasts.