Historical guided walks around the town of Dingle,
a town steeped in history on the edge of Europe.

Guided Walks of Dingle Town, Kerry, Ireland
Join us on a guided hour and a half walk and stroll through the history of Dingle Town. Norman Lords, Spanish Treaties,Town burnings, Elizabethan Charters and lots of wine….
Dingle is a town with a lot of history. What we try to do on our guided Dingle walks over the course of an hour or hour and a half is to give a sweeping overview of Dingle down through the years. We do this through individual stories that are linked to certain buildings around the town.
Do you like history? Do you like thinking about how things used to be or how they ended up the way they did? The streets of Dingle are steeped in history, some of it very local, some of it linked with international events.
Join us for some Dingle guided walks and tours at 10am at The Fungie Statue at The Pier, Dingle.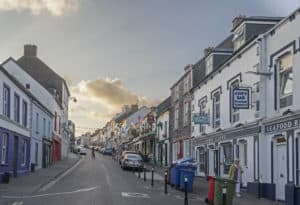 Celtic Nature Walking Holiday
We had a wonderful hike culminating in a 360-view of the end of the peninsula. (I'm glad I brought my walking stick for some of it). The lighting and visibility was stunning much of the time. We could see all the major islands and the water and rocks made it glorious. All the while, Kevin was sharing his knowledge of the Irish language and the history of the area. We could not have asked for more. And, all for an extremely reasonable fee.
Had an amazing morning tackling Mount Brandon with Kevin. Kevin was superb company and I barely felt the hike in my legs at all as I was so enthralled in the local folklore. The small group learned about the history of the mountain and the local area and we laughed and joked the whole way up and down.
Kevin brought the magic of Ireland into our Seattle living room with a personalized, virtual tour through Dingle. His tour was a perfect blend of history, present day Dingle, and interesting and fun facts and stories. A trip to Dingle was already on our wish list and after the tour, the area is a must see for us when international travel allows. Thank you, Kevin, for your time and for sharing such a lovely place with us.
This was the second time we went out hiking with Keven and again we had a top ten day. Easy to book and such dependable service. He and his wife are so helpful and caring.. they even let my son borrow a fishing pole.. You won't regret spending a day hiking, talking and getting to know the Irish countryside.
Worth every penny! Kevin O'Shea is WONDERFUL! A day hiking with Kevin O'Shea of Celtic Nature Walking Tours was some of the best money we spent in Ireland. He has a wonderful knowledge of the area -- not just the trails, but of the region and the country.