Dingle Way Self-Guided Walking Tour
THE MAGICAL KINGDOM OF KERRY AND THE DINGLE WAY (SLÍ CHORCA DHUIBHNE)
DINGLE WAY SELF GUIDED WALKING HOLIDAYS
The Dingle Way – Slí Chorca Dhuibhne in Irish – is a diverse and beautiful moderate walking trail, full of surprises for those who wander its paths. During a week's rambles over The Dingle Way, you'll encounter panoramic vistas of sea, mountain and islands, a profusion of unique birds, plants and unspoiled landscape, and an astonishing array of ancient sites spanning 6000 years.
THE MAGICAL KINGDOM OF KERRY AND THE DINGLE WAY (SLÍ CHORCA DHUIBHNE)
Along its 178km (110 mi.) length, The Dingle Way traverses pristine sandy beaches bordering on crystal seas, fuchsia and gorse lined green roads leading through pastoral countryside, heather and bracken covered hills, and mountain passes up to 700 meters (2000 ft.) high. Here, where ancient Bronze Age and Celtic peoples lived for thousands of years, you can enjoy gannets and shearwaters in endless flight above wave battered cliffs, or laugh at rare, red-footed and red-beaked chough dabbling amongst purple Devonian sandstone boulders along the shore. On another day you might delight in multiple rainbows over a verdant patchwork quilt of field and stone as you pause and refresh in the cool quiet glen of an ancient sacred well. The days will pass all too quickly as you explore the magical Kingdom of Kerry!
Slí Chorca Dhuibhne is more than nature at its finest … it is Gaelic culture at its best. On The Dingle Way much of your walking will take you through the heart of the Dingle Gaeltacht, one of the few remaining Irish speaking areas in Ireland. Here Irish music, dance and traditional ways live on in a vibrant culture that welcomes you at every turn. In the evening, after your day's walk, you can enjoy home-cooked traditional Irish meals or local seafood in one of the peninsula's many fine restaurants. Afterwards, there's traditional music and Irish set dancing to savour at many pubs around the peninsula.
Once you've booked our Dingle Way holiday, you can relax and savour the walking, knowing that we'll handle all the details. We'll arrange outstanding B&Bs and packed lunches. We will arrange your pickup and drop off at Tralee Train & Bus station. We'll have your luggage waiting for you at the end of every day. And well before you head off for Ireland, we'll send you a complete itinerary and a detailed DingleWay Guide. We have train and bus schedules on hand too and can help you set up your travel to Tralee. While you are here, we're never more than 20 minutes from you by car should a problem pop up. You will be well taken care of and you won't have to worry about a thing!
Book your Dingle Way Walking Holiday
5 Night Dingle Way Self Guided Walking Holidays
6 Night Dingle Way Self Guided Walking Holidays
7 Night Dingle Way Self Guided Walking Holidays
8 Night Dingle Way Self Guided Walking Holidays
9 Night Dingle Way Self Guided Walking Holidays
Your Walking Holiday Includes:
B&B
Packed lunches
Transfer of luggage each day between B&Bs
Meetup in Dingle
Detailed Dingle Way Guide & Itinerary
Pick up at Tralee Train/Bus station on first day and return on
last day
Comfort of knowing we live right here on The Dingle Way should anything arise
Camp to Annascaul – 16km/10 miles
Annascaul to Dingle – 22km/13 miles
Dingle to Dunquin – 22km/13.5 miles
Dunquin to Ballydavid – 11 miles/18km
Ballydavid to Cloghane – 14 miles/23km
Cloghane to Castlegregory – 17 miles/27km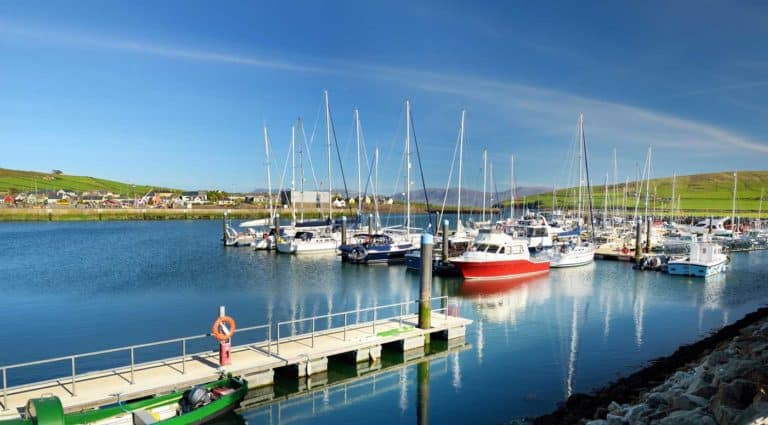 Dingle
Buzzy fishing port of Dingle Town right in the heart of The Dingle Peninsula (Corca Dhuibhne in Irish). Dingle is a great place to spend a little time seeking out some hidden gems such as The Díseart Chapel & Gardens in the middle of town or the gorgeous little galleries and craft shops that abound not to mention the cafes and restaurants and pubs and Irish traditional music. Perhaps a boat trip or kayaking trip might be appealing also.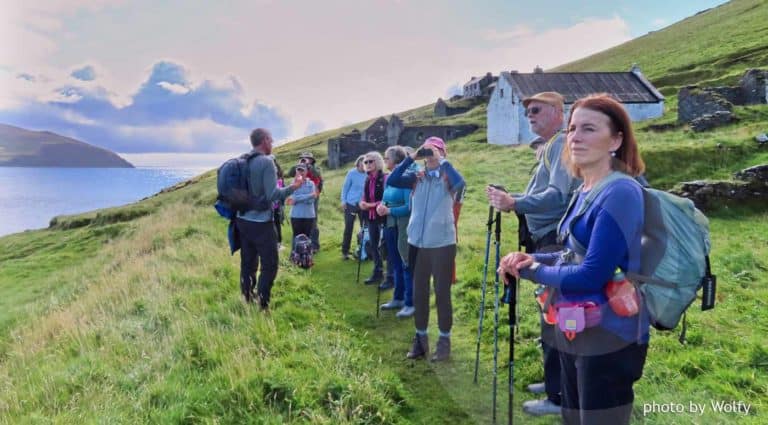 Great Blasket Island (An Bhlascaoid Mhóir)
Take in a ferry to the uninhabited Great Blasket island which lies 5km/3miles off the most westerly point of the Dingle Peninsula and was once home to many Irish language writers who chronicled a way of life that is now past but continues to be culturally and historically very significant - The following books are well worth checking out: Tomás Ó Criomhthain- The Island Man (An tOileánach); Peig Sayers - Peig; and Muiris Ó Suilleabháin- 20 Years a Growing (Fiche blian ag fás). Please email re this option: info@celticnature.com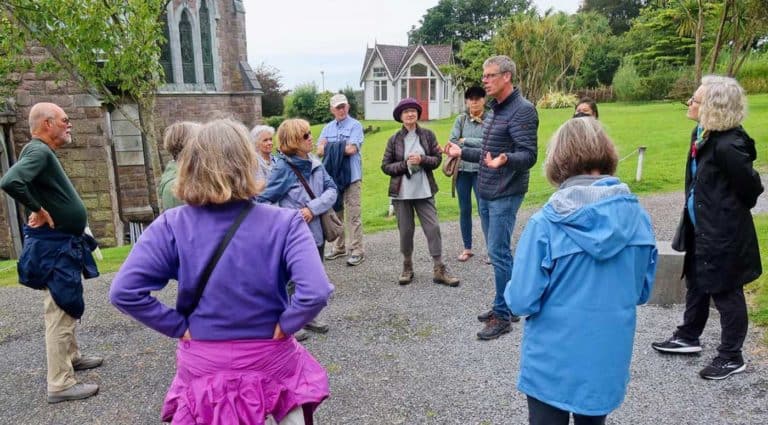 Guided option available
An added option which some of our walkers like to take is a guided walk with Kevin. Kevin is very passionate about his local area and he can enrich the Dingle Peninsula and Kerry and Ireland and give you an insight into this green isle. Kevin will accompany a guided walk with stories from past and present, drawn from the history books, literature and local folklore which explore the history and gaelic culture of this unique landscape. Guided option available...... Great experience and real immersion into the culture of Ireland.
Celtic Nature Walking Holiday
We had a wonderful hike culminating in a 360-view of the end of the peninsula. (I'm glad I brought my walking stick for some of it). The lighting and visibility was stunning much of the time. We could see all the major islands and the water and rocks made it glorious. All the while, Kevin was sharing his knowledge of the Irish language and the history of the area. We could not have asked for more. And, all for an extremely reasonable fee.
Had an amazing morning tackling Mount Brandon with Kevin. Kevin was superb company and I barely felt the hike in my legs at all as I was so enthralled in the local folklore. The small group learned about the history of the mountain and the local area and we laughed and joked the whole way up and down.
Kevin brought the magic of Ireland into our Seattle living room with a personalized, virtual tour through Dingle. His tour was a perfect blend of history, present day Dingle, and interesting and fun facts and stories. A trip to Dingle was already on our wish list and after the tour, the area is a must see for us when international travel allows. Thank you, Kevin, for your time and for sharing such a lovely place with us.
This was the second time we went out hiking with Keven and again we had a top ten day. Easy to book and such dependable service. He and his wife are so helpful and caring.. they even let my son borrow a fishing pole.. You won't regret spending a day hiking, talking and getting to know the Irish countryside.
Worth every penny! Kevin O'Shea is WONDERFUL! A day hiking with Kevin O'Shea of Celtic Nature Walking Tours was some of the best money we spent in Ireland. He has a wonderful knowledge of the area -- not just the trails, but of the region and the country.