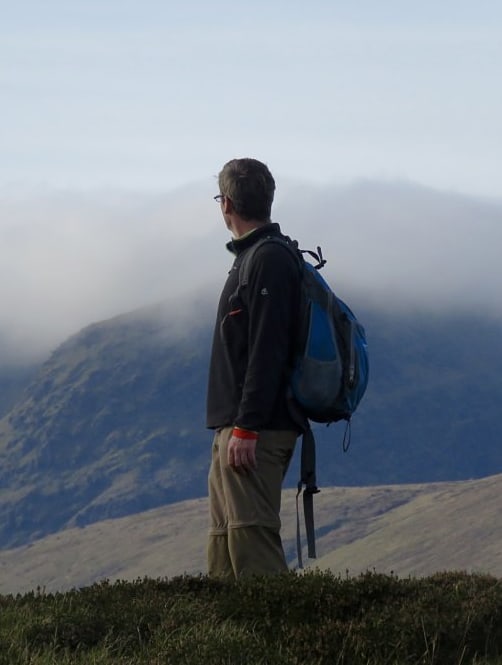 Guided & Self-Guided Walking, Trekking & Hiking Tours in Kerry
Hiking and walking tours are the best ways to experience Kerry. From Killarney to Dunquin; from Dingle to Caherdaniel, the natural landscape of the wild Atlantic coast, mountains, valleys and villages dispersed throughout is best explored and discovered on foot.
Our guided walking tours and self-guided Walking and hiking tours in Kerry allows you access to the natural landscape, fresh air, a sense of space and time, nature and a freedom that is otherwise difficult to encounter.
Walking and hiking gives you the time to get the most out of this special place. Kerry is the land of the setting sun. It is a country of big skies, four seasons in one day and great light. Walking is the perfect place to drink it in deep.
Kerry is a land with a long memory. The Dingle Way and Kerry Way are like open air museums, littered with castles, ringforts, standing stones and ancient churches. Walk in the footsteps of our ancient people by immersing yourself in one of our captivating trekking tours.
Bígi linn as the Irish saying goes.
Walk with us!
Irish Walking Tours in Dingle & Kerry
Philosopher John Moriarty talks about wild, natural Kerry
"I was looking out to the East out of my bedroom window just as I was getting up at around seven o'clock and there were long bands of mist all over Sliabh Luachra, East Kerry, and for the first time in my life I had to look away because it was much more than beautiful it was tremendous."
Walking in Dingle and County Kerry is more than just exercise, it is a great exercise. It is much more than fresh air and it is more difficult to find fresher air than in County Kerry. Dingle and County Kerry are surrounded by natural, beautiful landscapes – islands and coastal cliffs, beaches and mountains, valleys of hedgerows and farmland. Our walking tours in County Kerry will give you limitless peace and quiet and it is the picture-perfect environment for great thoughts to flourish.
You will travel far to reach this special place. Take the time to explore it. Take the time to truly unwind by walking through the pristine landscape of the Kingdom of County Kerry. 
We had a wonderful hike culminating in a 360-view of the end of the peninsula. (I'm glad I brought my walking stick for some of it). The lighting and visibility was stunning much of the time. We could see all the major islands and the water and rocks made it glorious. All the while, Kevin was sharing his knowledge of the Irish language and the history of the area. We could not have asked for more. And, all for an extremely reasonable fee.
Had an amazing morning tackling Mount Brandon with Kevin. Kevin was superb company and I barely felt the hike in my legs at all as I was so enthralled in the local folklore. The small group learned about the history of the mountain and the local area and we laughed and joked the whole way up and down.
Kevin brought the magic of Ireland into our Seattle living room with a personalized, virtual tour through Dingle. His tour was a perfect blend of history, present day Dingle, and interesting and fun facts and stories. A trip to Dingle was already on our wish list and after the tour, the area is a must see for us when international travel allows. Thank you, Kevin, for your time and for sharing such a lovely place with us.
This was the second time we went out hiking with Keven and again we had a top ten day. Easy to book and such dependable service. He and his wife are so helpful and caring.. they even let my son borrow a fishing pole.. You won't regret spending a day hiking, talking and getting to know the Irish countryside.
Worth every penny! Kevin O'Shea is WONDERFUL! A day hiking with Kevin O'Shea of Celtic Nature Walking Tours was some of the best money we spent in Ireland. He has a wonderful knowledge of the area -- not just the trails, but of the region and the country.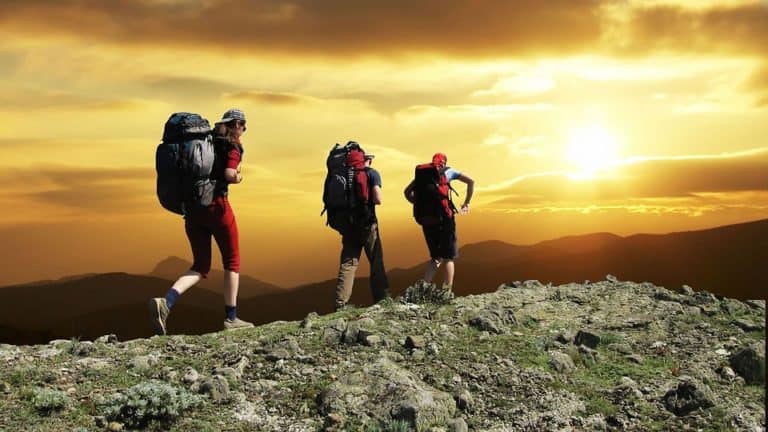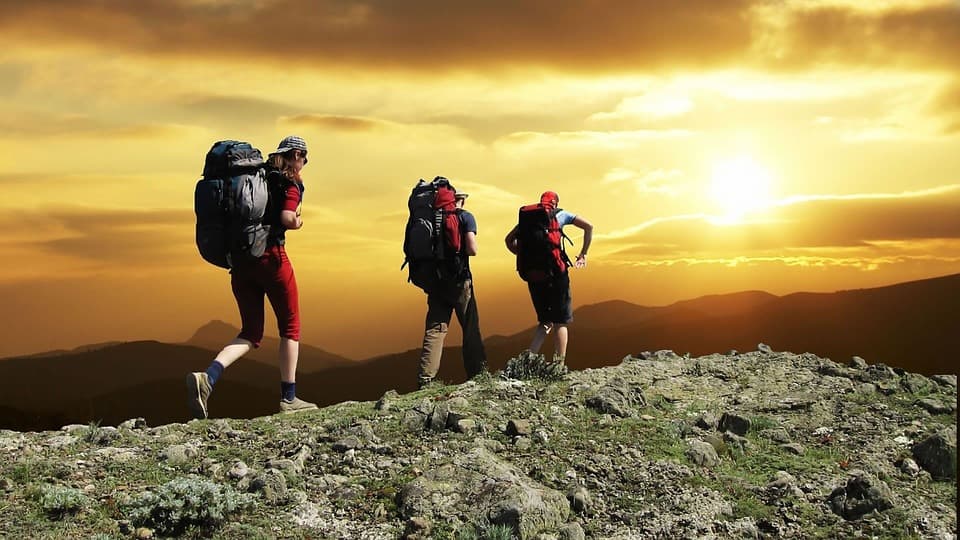 Stories
Walking or Hiking the Dingle Way and The Kerry Way – Some advice Hiking the Dingle Way or the Kerry Way on a self-guided walking holiday is a great way to explore wild Ireland.  Hiking the Dingle Way / Kerry Way is also a great
Read More »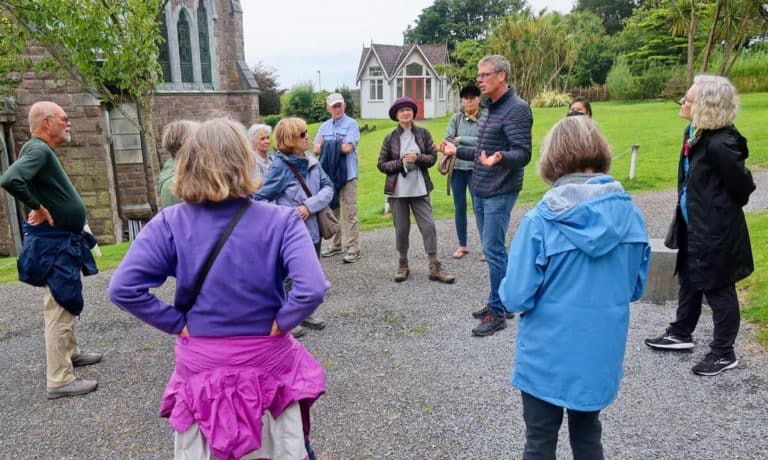 Stories
Much of the Dingle Peninsula is a Gaeltacht meaning it is a place where the Irish language, Gaeilge, is still spoken daily. Gaeilge, considered a Celtic language, is one of the oldest spoken languages in Europe with the oldest vernacular literature too. We don't know
Read More »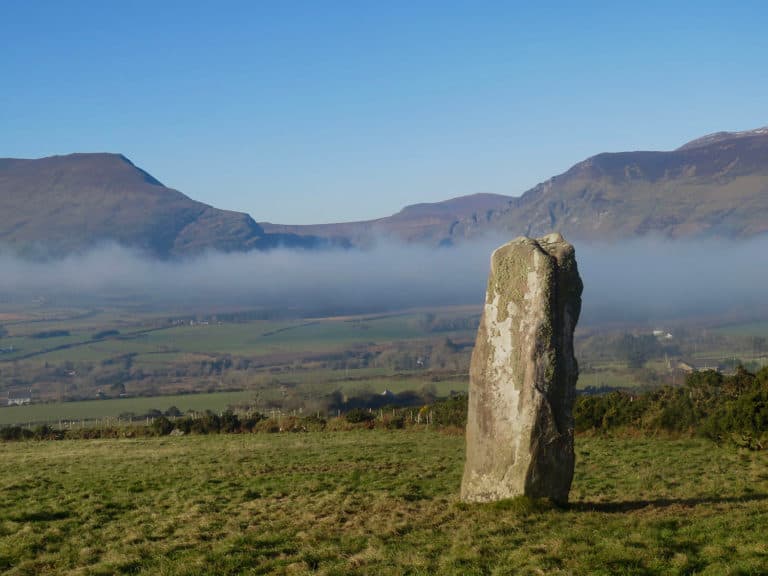 Stories
The Dingle Way winds along for 110 miles around the Dingle Peninsula. Across mountainside, through valleys, along beaches and bothareens the Dingle Way casually passes  many ancient archeological sites. Ring forts and Standing Stones, Rock art and ogham inscription all bear witness to the long
Read More »
Take your time – listen, feel, smell – indulge every sense and become alive.