Walking & Talking – a great way to experience the Dingle Peninsula
If you are planning a visit to the Dingle Peninsula this summer, or indeed if you are already here, we would like to interest you in the idea of a guided walk here on the Dingle Peninsula.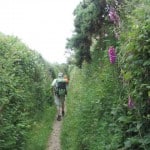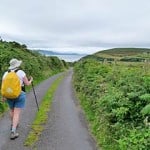 We, at Celtic Nature, believe that walking and talking are great ways to both experience the beauty of the peninsula and enter into the story of the people in whose footsteps we walk.
We have planned a series of guided walks from easy to challenging to suit your timeframe, ability and desire.
Easy – Join us on an hour and a half stroll through the story of Dingle Town – Past and Present.
Not so hard – Stretch your legs on a 2-3 hour easy hike by coastal cliffs along the Wild Atlantic Way where we talk ancient Ireland, the myths and history and the local story.
Challenging – Take to the hills. Climb Mount Brandon.
You have traveled far to come to this special place. We invite you to take the time to fully experience this inspirational landscape and enter the story of the Dingle Peninsula.